PhD and Postdoc positions at the Center for NanoScience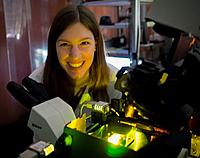 The Center for NanoScience announces several open fully-funded PhD and postdoc positions at LMU and TU Munich. All positions offer excellent re­search and training conditions within the stimulating scientific environment of the Center for NanoScience, the Cluster of Excellence e-conversion and the Munich Quantum Valley.
Find out more about tuition fees, salary, housing, degrees, etc. here.
Applications by researchers with handicap will be considered with priority under equal conditions. We welcome applications from female candidates. These are full-time positions. The possibility of part-time and flexible working hours will be considered.
Application deadline was February 6, 2023, 12:00 (noon) CET. Please note that incomplete applications and applications that were not submitted in due time will not be considered.
Open PostDoc positions:

Biophysics 1 (Labelizer - systematic selection of protein residues for fluorophore labelling)
Prof. Thorben Cordes, Faculty of Biology, LMU

Biophysics 2 (Real-time monitoring of membrane transport processes at the single molecule level)
Prof. Thorben Cordes, Faculty of Biology, LMU

Nanostructured Metamaterials for Energy Conversion
Prof. Emiliano Cortés, Faculty of Physics, LMU
RNA-based Therapeutics
Dr. Sabine Schneider, Faculty of Chemistry and Pharmacy, LMU
Quantum devices from 2D materials
Prof. Dmitri Efetov, Faculty of Physics, LMU
Application procedure
Registration
In order to apply online, you have to register first. You will then be able to enter your applications details.
PhD and postdoc projects
In your application, you have to select one project that you are most interested in. You can also select a second, alternative project. The available projects are listed on this website.
Letters of recommendation
For your application,

you must provide contact details and an email address for two referees

.
The online application tool will generate an automatic e-mail request to your referees, but only after you have filled in and submitted your application. They will be asked to follow a link in the e-mail and to fill in the evaluation form online.
Please note that recommendation letters have to be submitted by February 10, 2022!
Make sure that your referees have enough time to submit the recommendation by the deadline


Other forms of reference letters (mail, PDF) will not be accepted

Monitor the status of your recommendation letters under "Progress" in the "Application" menu
Timeline 2023

February 6, 2023 at 12:00 (noon) CET: Deadline for online applications
February 10, 2023 at 12:00 (noon) CET: Deadline for recommendation letters
March 1, 2023 (or earlier): Communication of decisions about refusal or invitation to the interview phase
March 2023, date tba: Interview workshop for selected candidates (online)
March-April 2023: Communication of decisions about refusal or acceptance
April-October 2023, or earlier: Start of PhD or postdoc (depending on the individual project)
Please refer to our

guide to applicants for more detailed information.
Requirements
For PhD positions
- holding a Bachelor Degree or equivalent in either the field of physics, chemistry or life sciences
- preparing for a Master's degree in one of the above named fields to be completed no later than two months before the start of the project OR hold a master's degree or equivalent
- excellent grades
- a very good command of the English language
- strong scientific motivation
- high interest in interdisciplinary research
For postdoc positions
- holding or preparing for a PhD or Dr. rer. nat. in a related subject
- high-quality publications
- strong scientific motivation
- high interest in interdisciplinary research