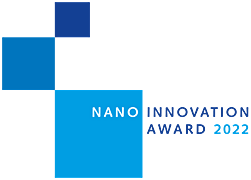 The Nano Innovation Award is awarded annually by the Center for NanoScience together with the CeNS spin-offs attocube systems, ibidi, Nanion Technologies, and NanoTemper Technologies, to honor junior researchers at Bavarian research institutions for excellent research in the nanosciences. Outstanding PhD students in the field of nanosciences/nano(bio)technology are invited to apply. Research projects should offer some potential for innovative applications.
Prize money:
1. Prize: € 4,000
2. Prize: € 3,000
3. Prize: € 2,000
Shortlisted Candidates 2022:
Tobias Boolakee (AG Hommelhoff, FAU): A light field-driven logic gate in a graphene heterojunction
Pascal Büttner (AG Bachmann, FAU): Interface Engineering of Sb2S3-based Extremely Thin Absorber Solar Cells by Atomic Layer Deposition
Dr. Florian Gartner (AG Frey, LMU): Understanding the kinetics of self-assembly processes - paving the path for
nanotechnological applications
Dr. Ludwig Hüttenhofer (AG Maier, LMU): Enhanced Solar Energy Harvesting by Metasurface Photoelectrodes
Dr. Alan Ianeselli (AG Braun, LMU): Study of primordial DNA replication by simulation, modeling and microscopy
Maximilian Ochs (AG Hecht, Uni Würzburg): Electrically Connected Nano-Optical Systems
Dr. Tim Schröder (AG Tinnefeld, LMU): Connecting Excited State Lifetime and Intensity Correlations for
Quantitative Analysis of Chromophore Interactions
Selection Process
The selection committee 2022 comprises of five members:
- Dr. Michael George (Nanion GmbH)
- Prof. Bert Hecht (Universität Würzburg)
- Prof. Tim Liedl (LMU)
- Prof. Klaus Sailer (Strascheg Center of Entrepreneurship at Hochschule München)
- Prof. Cathleen Zeymer (TUM)

The selection of the awardees is a two-stage process. Shortlisted candidates will be informed and invited about 10 days before the award ceremony.
Main selection criteria:
Innovation quality

Validation of the central idea (existing "proof of principle")

Application focus of the work and plausibility in terms of current state of technology

Central idea is published, patent filed etc.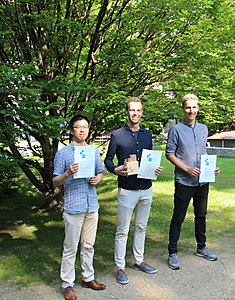 Awardees 2021 (The virtual award ceremony 2021, including the presentations of the finalists, can be watched

here)
1. Prize
Christian Sigl, group of Prof. Hendrik Dietz (TU Munich)
2. Prize
Jan Felber, group of Dr. Thorn-Seshold (LMU Munich)
3. Prize
Jun Zhang, group of Prof. Clausen-Schaumann (Hochschule München)
Awardees 2020 (The award ceremony 2020, including the presentations of the finalists, can be watched here:

https://youtu.be/NMqMEFnAlAo)
1. Prize
Dr. Bernhard Bohn, group of Prof. Jochen Feldmann (LMU Munich)
2. Prize
Linh Nguyen, group of Prof. Tim Liedl (LMU Munich)
3. Prize
Enno Krauss, group of Prof. Bert Hecht (University of Würzburg)
Nano Innovation Award for master's thesis
Sabrina Thomä, group of Jun.-Prof. Mirijam Zobel (Universität Bayreuth)
Nano Innovation Award for PhD thesis
Thomas Hümmer, group of Prof. Theodor Hänsch (LMU Munich/MPI of Quantum Optics)
Nano Innovation Award for master's thesis
Konstantin Ditzel, group of Dr. Philipp Paulitschke/Chair Prof. Joachim Rädler (LMU)
Nano Innovation Award for PhD thesis
Dr. Klaus Wagenbauer, group of Prof. Hendrik Dietz (TU Munich)
Nano Innovation Award for master's thesis
Florian Schüder, group of Prof. Ralf Jungmann (MPI of Biochemistry/LMU)
Nano Innovation Award for PhD thesis
Stefan Datz, group of Prof. Thomas Bein (LMU)
Peter Röttgermann, group of Prof. Joachim Rädler (LMU)
Patrick Vogel, group of Prof. Peter Jacob (University of Würzburg)
CeNS Innovation Award for master's thesis
Aurora Manzi, group of Prof. Jochen Feldmann (LMU)
CeNS Innovation Award for PhD thesis
Christof Mast, group of Prof. Dieter Braun (LMU)