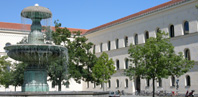 Doing a PhD in Munich - "A Thoroughly Exciting, Challenging, and Enjoyable Experience"
As the central unit for all matters related to doctoral studies at LMU Munich, the GraduateCenterLMU aims to optimize the conditions for all doctoral candidates at the university (both those participating in doctoral programs and individual doctoral candidates). In addition, LMU Gateway offers assistance for incoming international scientific staff, be it PhD students, postdoctoral researchers, or newly appointed professors at LMU, in all matters related to their relocation.
CeNS Buddy System
When you start a PhD abroad, there are so many new things to learn and handle. Sometimes, all the To do's and being new in town can feel a little overwhelming. Do you need someone to talk to directly? Maybe someone in a similar position, or just someone to support you if your "lost in translation"? - Check out our CeNS buddy system and fill out the contact request!

Do you want to be a buddy and support an incoming CeNS PhD student?
Register here:

https://eveeno.com/cens-buddy
Are you new in town and need a buddy?
Register here:

https://eveeno.com/cens-buddy-wanted
Read some testimonials of our international doctoral students and find out why coming to Munich is an excellent choice!
Dian-Jang from Taiwan

"Surrounded by poetic landscape, palaces and breweries, Munich is the heart of enthusiastic Bavarian culture with world-class museums, theater, music, and sporting events. If you are interested in being on the forefront of nanotechnology research, CeNS is one of the most exciting places in Germany for you to study. LMU holds a long history for tradition of excellence, as well as its credible and rational scientific attitude. Here the multi-disciplinary team from the life sciences and physical sciences, engineering, and medicine together bring successful achievements. Moreover, CeNS also provides workshops, seminars, company tours, career talks, as well as education and research opportunities, allowing students to collaborate with experts throughout LMU and other prestigious institutions around the world. What's more important, it is a great pleasure to work in a state-of-the art environment with strong support from my friendly and insightful colleagues and valuable advice from my supervisor. For me, studying at LMU CeNS is a feast of knowledge and spirit in my lifetime."
Tao from China

"I fell in love with Munich after a long, long flight delay in July 2011. That was my first time to be here. At the very beginning, it was hard to believe that one could only drink beer without any "real" food. But after two years in Munich, it turned out that my previous impression of this city, beer and football, was partially right. Also, it is not only about efficient public transport, a convenient living environment and the beautiful Bavarian landscapes (hiking in Alps!). In the last century, the scientists of LMU Munich played a major role in the development of quantum mechanics, and now LMU Munich got new input from the Excellence Initiative of the German Federal Ministry of Education and Research. The leading research clusters like CeNS and NIM provide various opportunities to build new connections through seminars, formal and informal meetings and parties. German speaking is always helpful, but you can also enjoy your life with English since the people here are always nice and friendly. All in all, I am proud to be a member of CeNS and the Department of Physics at LMU Munich."
Farzad from Iran

"I describe Munich as a modern village; on one hand it is surrounded by major industries and has all urban facilities, on the other hand the comfort and beauty of nature is always just a block away, e.g. English garden, Isar river. Munich is indeed an international city, where I met people from all around the world. But unfortunately hardly any part of the famous German bureaucracy is non-German-speaker friendly. Luckily, IDK management team are always there and willing to help. The dynamic and interactive atmosphere in CeNS provides a unique opportunity not only to deepen knowledge of my own field but also to extend its horizons to other disciplines, such as biology. "
Sushi from India

"It is indeed an honor and great pleasure to be a part of this program. IDK has given me a wonderful opportunity to experience interdisciplinary research at its best. The various workshops, seminars and lecture series help broaden your scientific knowledge, hone your personal skills and aid in networking with other young researchers. Moreover, Munich is a great place to live, a world-class city in the vicinity of Alps, surrounded by lakes and woods. A hub of Science, Art, Music, Sports and Opera, it provides the perfect environment for pursuing research and engaging in leisure activities."