CeNS Workshop 2018 "Celebrating NanoScience"
20 years of CeNS
Scope of the Workshop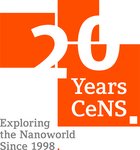 This anniversary workshop brings together young researchers of the Center for NanoScience (CeNS) with experienced scientists from the fields of physics, chemistry and molecular biology. The talks of the workshop are intended to give the graduate students and post-doctoral researchers of CeNS an overview of current research topics on nanometer-scale science.
Under the workshop title "Celebrating NanoScience", renowned nanoscientists from all over the world will convene on the beautiful island of San Servolo to exchange ideas, to discuss their latest research progress, and to celebrate the 20th anniversary of CeNS.
Venue
The workshop takes place at the

Venice International University (VIU) located on the small island "San Servolo". The island is connected to the historic center of Venice by boat No. 20. The boat ride takes 10 minutes and boats run regularly until late at night.
Program
The workshop will start on Monday, September 24 at 9.20 am and will end on Friday, September 28 at 12.00 am and will combine invited talks and poster presentations. A festive reception for all participants is scheduled for Thursday, September 27, at 6.30 pm.
Lunch menus will be available at the university restaurant on the island (not included in the conference fee).

Schedule
Poster Sessions
In addition to the talks, all participants are invited to present a poster at one of the two poster sessions taking place on Tuesday and Thursday.
Group Travel to Venice by Train
CeNS will make reservations for a direct train to and from Venice, so that all participants from Munich and Augsburg can take this train to travel together to Venice.
The train (EuroCity) leaves Munich Main Station on Sunday, September 23 at 11:34 am and will arrive in Venezia Santa Lucia at 6:10 pm. From the train station to San Servolo, it takes about 80 min by water bus (vaporetto).
The return train will leave Venice on Friday, September 28 at 1:50 pm and will reach Munich at 8:25 pm.
Travelling by Air
Several airlines offer flights to Marco Polo International Airport at Venice. From the airport, regular boats (e.g. ALILAGUNA) connect to the island of Venice. The conference location San Servolo is reached via boat No. 20 from close to the Piazzale San Marco.
Accommodation
We have booked rooms for speakers and participants from Sunday evening (23rd) to Friday morning (28th) in several hotels in central Venice.
Accommodation for speakers
The speakers of the workshop are invited to stay in two hotels "

Domus Ciliota" and "

Don Orione" in the historic districts Dorsoduro and San Marco where CeNS has booked single and double rooms from Sunday evening (23rd) to Friday morning (28th). Please inform

Marilena Pinto as soon as possible about your arrival and departure dates and whether you will need a single or double room.
Accommodation for participants
Rooms with 2, 3 or 4 beds will be at disposal for students (PhD and Master students) in several hostels in Dorsoduro and San Marco. Senior researchers will be accommodated in single rooms (or double rooms upon request).
Local Transport
The historic center of Venice is quite small so that you can walk to most of the interesting places. In addition, you can take the waterbuses (called Vaporetto) across the famous Canal Grande or take other lines to travel to the small islands closeby. The transfer from the airport to the historic part of Venice is possible via bus or waterbus. Once in Venice, you have to take the waterbus No. 20 to reach the conference venue on San Servolo. You can check the timetables

via this website and

buy online.
7-days vaporetto tickets for participants
For those participants going to Venice by train on Sunday 23rd, the CeNS staff will book Vaporetto-Tickets (valid from Sunday to Saturday) in advance and hand them out after arrival in Venice. These tickets are valid for all buses and waterbuses in Venice and also for the boat traffic through Canal Grande, to San Servolo and to other islands.
In case that you do not book a conference ticket, you can buy waterbus tickets in Venice at the

ACTV counters found at major waterbus/bus stations. A one-way ticket in Venice (more than one stop) costs EUR 7,50.
Boat to conference location (Linea 20)
The boat from Venice to San Servolo (No. 20) leaves from the stop "San Zaccaria" close to the Piazza San Marco; the stop is in front of the "Londra Palace Hotel". Please check the timetable available

here.
Registration
Registration is closed! Registered participants will receive a separate e-mail with payment details soon. Payment of the participation fee is due by July 31 at the latest.

Confirmed Speakers
David Awschalom, Chicago University
Jeremy Baumberg, Cavendish Laboratory Cambridge
C. Jeffrey Brinker, The University of New Mexico
Paola Caselli, MPI for Extraterrestrial Physics
Cees Dekker, TU Delft
Konstantin Ditzel, LMU Munich
Zhen-Chao Dong, University of Science and Technology China
Mohamed Eddaoudi, KAUST
Jonathan Finley, TU Munich
Peter Fratzl, MPI für Kolloid- und Grenzflächenforschung
Atac Imamoglu, ETH Zürich
Khaled Karrai, attocube systems
Tobias Kippenberg, EPFL Lausanne
Bettina Lotsch, LMU Munich
Justin Molloy, The Francis Crick Institute, London
Laura Na Liu, University of Heidelberg
Michel Orrit, Leiden University
Vahid Sandoghdar, MPI for the Science of Light
Petra Schwille, MPI of Biochemistry
Fritz Simmel, TU Munich
Jacek Stolarczyk, LMU Munich
Cecile Sykes, Curie Institute Paris
Philip Tinnefeld, LMU Munich
Klaus Wagenbauer, TUM
Shimon Weiss, UC Los Angeles
Robert Westervelt, Harvard University
Wilhelm Zwerger, TU Munich
Workshop Venue
Venice International University
Isola di San Servolo
30100 Venice, Italy

http://www.univiu.org/
Phone +39-041-2719511
Fax +39-041-2719510
Workshop Organization

Dr. Susanne Hennig

Claudia Leonhardt, M.A.

Marilena Pinto, M.A.
Center for NanoScience (CeNS)
Ludwig-Maximilians-Universität
Geschwister-Scholl-Platz 1
D-80539 München
Tel: +49-(0)89-2180-5791

www.cens.de