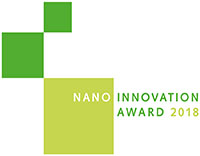 The Nano Innovation Award is awarded annually by the Center for NanoScience together with the CeNS spin-offs attocube systems, ibidi, Nanion Technologies, and NanoTemper Technologies, to honor junior researchers for excellent research in the nanosciences. Research projects with a potential for industrial applications are especially invited.
The prize is awarded in two categories:
1. For an outstanding Mater student in the field of nanosciences/nano(bio)technology
2. For an outstanding PhD student in the field of nanosciences/nano(bio)technology
The prize money is donated by the CeNS spin-offs attocube systems, ibidi, Nanion Technologies and NanoTemper Technologies.
Prize money:
€3,000 in the category "Master students" and
€6,000 in the category "PhD students".
In addition, the awardees will be invited to present their results at the CeNS workshop in Venice.
Who can participate?
Junior scientists from Bavarian universities and research institutions are eligible. Their thesis on a nanoscientific topic must not have been finished before June 15, 2017. Students who have not finished their thesis yet are also welcome to apply.
Submission guideline
The following documents (in English or German) have to be submitted by the applicant:
Nomination letter by the supervisor (maximum two pages)
Maximum three pages: Summary of the research project and description of the innovative character of the work;
if applicable: explanation of a potential application of the research work (or parts of it) for industry
Curriculum Vitae (including Master's/PhD certificate, if applicable)
List of publications and patents (if applicable)
Dowload link for PDF Master's/PhD thesis (if applicable)
Applications should be sent by e-mail to hennig
cens.de. Deadline is June 14, 2018.
Selection Process
The selection committee 2018 comprises of five members:
- Dr. Niels Fertig (Nanion Technologies)
- Prof. Achim Hartschuh (LMU/CeNS Board)
- Prof. Ralf Jungmann (LMU/MPI of Biochemistry)
- Prof. Jens Rieger (BASF)
- Prof. Achim Wixforth (Augsburg University)

The selection of the awardees is a two-stage process. Shortlisted candidates will be informed and invited one week before the award ceremony.
Main selection criteria:
Innovation quality

Validation of the central idea (existing "proof of principle")

Application focus of the work and plausibility in terms of current state of technology

Central idea is published, patent filed etc.

Award Ceremony
The award ceremony will take place at the event "CeNS meets Industry" on July 13, 2018 at 5.30 pm in the Kleiner Physikhörsaal N020, LMU Munich.
Nano Innovation Award for master's thesis
Florian Schüder, group pf Prof. Ralf Jungmann (MPI of Biochemistry/LMU Munich)
Nano Innovation Award for PhD thesis
Stefan Datz, group of Prof. Thomas Bein (LMU Munich)
Peter Röttgermann, group of Prof. Jochaim Rädler (LMU Munich)
Patrick Vogel, group of Prof. Peter Jacob (University of Würzburg)
CeNS Innovation Award for master's thesis
Aurora Manzi, group of Prof. Jochen Feldmann (LMU)
CeNS Innovation Award for PhD thesis
Christof Mast, group of Prof. Dieter Braun (LMU)