Thursday, 19 April, 2012
DNA origami puts a smart lid on solid-state nanopore sensors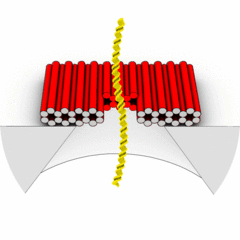 The latest advance in solid-state nanopore sensors devices that are made with standard tools of the semiconductor industry yet can offer single-molecule sensitivity for label-free protein screening expands their bag of tricks through bionanotechnology. Researchers at the Technische Universität München have enhanced the capabilities of solid-state nanopores by fitting them with cover plates made of DNA. The results are published in Angewandte Chemie International Edition.
Press information TUM (in English)
Publication "DNA Origami Gatekeepers for Solid-State Nanopores"