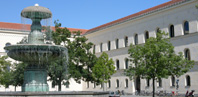 Doing a PhD in Munich - "A Thoroughly Exciting, Challenging, and Enjoyable Experience"
As the central unit for all matters related to doctoral studies at LMU Munich, the GraduateCenterLMU aims to optimize the conditions for all doctoral candidates at the university (both those participating in doctoral programs and individual doctoral candidates). In addition, the program doc.internationalLMU is designed for international doctoral students and postdoctoral scholars who do their research at LMU Munich. The program is run by the International Office at LMU and supported by DAAD. It offers informative meetings for new international young academics, language courses, and cultural activities.
Read some testimonials of our international doctoral students and find out why coming to Munich is an excellent choice!
Tao from China

"I fell in love with Munich after a long, long flight delay in July 2011. That was my first time to be here. At the very beginning, it was hard to believe that one could only drink beer without any "real" food. But after two years in Munich, it turned out that my previous impression of this city, beer and football, was partially right. Also, it is not only about efficient public transport, a convenient living environment and the beautiful Bavarian landscapes (hiking in Alps!). In the last century, the scientists of LMU Munich played a major role in the development of quantum mechanics, and now LMU Munich got new input from the Excellence Initiative of the German Federal Ministry of Education and Research. The leading research clusters like CeNS and NIM provide various opportunities to build new connections through seminars, formal and informal meetings and parties. German speaking is always helpful, but you can also enjoy your life with English since the people here are always nice and friendly. All in all, I am proud to be a member of CeNS and the Department of Physics at LMU Munich."
Farzad from Iran

"I describe Munich as a modern village; on one hand it is surrounded by major industries and has all urban facilities, on the other hand the comfort and beauty of nature is always just a block away, e.g. English garden, Isar river. Munich is indeed an international city, where I met people from all around the world. But unfortunately hardly any part of the famous German bureaucracy is non-German-speaker friendly. Luckily, IDK management team are always there and willing to help. The dynamic and interactive atmosphere in CeNS provides a unique opportunity not only to deepen knowledge of my own field but also to extend its horizons to other disciplines, such as biology. "
Brian from Ireland

"The things I like about CeNS are the support, diversity, collaborations and the bigger picture. This program aims to create high-quality students and looking at our Alumni, I think it does a good job. Im very proud to be part of the IDK and CeNS. Its a forward thinking PhD program that offers more and I would recommend it to anyone interested. The highest quality of science and lifestyle are all here, the rest is up to us!"
Sushi from India

"It is indeed an honor and great pleasure to be a part of this program. IDK has given me a wonderful opportunity to experience interdisciplinary research at its best. The various workshops, seminars and lecture series help broaden your scientific knowledge, hone your personal skills and aid in networking with other young researchers. Moreover, Munich is a great place to live, a world-class city in the vicinity of Alps, surrounded by lakes and woods. A hub of Science, Art, Music, Sports and Opera, it provides the perfect environment for pursuing research and engaging in leisure activities."
Kamila from Poland

"Considering science, Munich is a hub of excellence; when it comes to sports - it's perfectly suited for numerous disciplines and if you think of any type of leisure, you're definitely in the right place. Situated at the bottom of the Alps, surrounded by woods and lakes, Munich attracts passionate people from all around the world. Vivid and international, the city still maintains its typical Bavarian atmosphere. And if you wish to immerse yourself in the vast variety of scientific opportunities, IDK lets you do so."