Wednesday, 20 June, 2012
United Nations Conference on Sustainable Development (Rio + 20)
CeNS associate Claudia Palumbiny takes part in United Nations Conference on Sustainable Development (Rio + 20) and TUM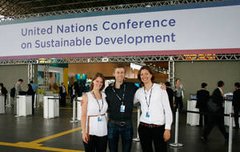 The United Nations Conference on Sustainable Development (Rio + 20) was recently given a boost of innovative thinking from a team of doctoral students at the Technische Universität München. As part of the Students for Sustainability: Developing the next generation of sustainability leaders organized by Siemens and UNEP, six international student teams where brought together in Rio de Janeiro in June 2012 to discuss their solutions for a sustainable future. Each team was assigned with the task of developing an innovative and sustainable solution to a local challenge. Emphasis was placed on concrete and realizable solutions, which addressed all three aspects of sustainable development: economic, social, and environmental.
The team from the Technische Universität München chose the topic Energy Independence in Bavarian Villages: Local level solutions and their contribution to local and national sustainability targets. Starting from the background of the energy transition (Energiewende) in Germany and the trend of villages to achieve energy independence, the group worked extensively to determine how local actions fit into the larger region and whether such actions are truly sustainable. The final results of the work are to be published in a peer-reviewed academic journal.
The international conference, Rio +20, was held in Rio de Janeiro, Brazil in June 2012 twenty years after the landmark Earth Summit in Rio de Janeiro. The TUM team consists of Katrin Schaber, John Anderson, Claudia Palumbiny, Matthias Gottlieb, Philipp Ahlhaus, Ulrich Kleinhans, and was supervised by Prof. Dr. Thomas Hamacher and Prof. Flavio Comim.
see website