Thursday, 11 November, 2010
IDK's Sebastian Geiger and Wolfram Möbius off to the USA
Alumni start jobs at Berkeley and Harvard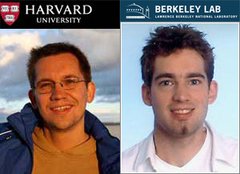 Dr. Sebastian Geiger, former PhD student and Student Representative of the International Doctorate Program NanoBioTechnology (IDK-NBT), now joins the well-known lab of John A. Tainer, Lawrence Berkeley National Laboratory, USA to perform research on the structural biology of DNA damage repair. The goal is to understand human disease at molecular level, with applications for aging and cancer research.
Sebastian Geiger received his Diploma of the Ludwig-Maximilians-Universität München with the thesis Structural studies of the Med20/Med18 dimer and other components of the Mediator head module in the group of Prof. Patrick Cramer at the Gene Center Munich.
He stayed in the Cramer group for his PhD thesis and was accepted as member of the IDK-NBT in 2006. He successfully finished his dissertation this year in July with his thesis "Structure and function of RNA Polymerase I subunits".
Dr. Wolfram Möbius, who, as well, was a very active member of the Doctorate Program, also joined the successful IDK members who went to the U.S., and started working in the group of Prof. David R. Nelson at Harvard University. He will work on population dynamics and population genetics aiming to combine theory and experiments.
Wolfram received his Diploma in Physics from the LMU Munich and stayed on for his dissertation in the group of Prof. Ulrich Gerland at the Chair for Statistical and Biological Physics, becoming a member of the IDK in 2006. He successfully defended his thesis "Physical aspects of chromatin constituents: DNA dynamics and nucleosome positioning" (download thesis) this year in May.
Although the IDK-NBT is sad about losing two very active members to famous labs in the USA, we are very proud of Sebastian and Wolfram and we wish them great scientific success and feel confident that we will stay in touch.