Overview
The International Doctorate Program NanoBioTechnology (IDK-NBT) was an international doctoral excellence program in NanoBioTechnology, funded by the Elite Network of Bavaria (ENB). It ended in October 2012. The IDK-NBT offered outstanding graduate students the opportunity to earn their doctoral degree in a stimulating scientific and academic environment providing interdisciplinary research conditions and excellent education. The program was administrated by the Center for NanoScience (CeNS) at the Ludwig-Maximilians-University in Munich (Bavaria).
Alumni
From 2004 - 2012, 111 PhD students were accepted as members of the International Doctorate Program. See all former members here...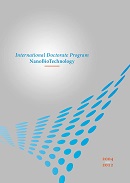 Final Report
Read in the final report about IDK activities, members, publications, statistics and much more!
Download final report (PDF, 3 MB)