IDK - the next generation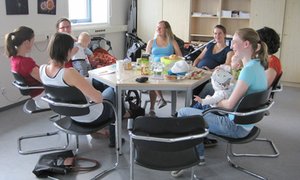 More and more students and PhD students decide on having a baby at the beginning of their academic career.
The IDK-NBT also rejoices in 10 babies in the last 3 years. Having an average number of about 35 active members this birthrate is way above the national average. It makes us proud that the PhD students feel comfortable and protected in our program as well as their chairs and therefore feel it is worth taking on the challenge of having a baby during their PhD.
The IDK members made the decision at different times in their lives; some of them before they started their PhD, others at the beginning, some in the middle and most of them at the end. Also their partners were at different steps on their career ladders: from partly also being PhD students or just having started working to multiannual work experience.
At the IDK-NBT-Elternstammtisch 3 young mothers IDK-members Julia Blechinger, Katja Falter and Uta Wienken met with Dr. Judith Megerle, IDK-alumna and mother of two, and IDK-members Frauke Mickler and Melari Davies, both in the middle of their pregnancies.
All of them said that their lives have changed completely with the births of their children. It is absolutely impossible to have any idea before the birth what it will be like afterwards. Working on the dissertation at home shortly after the birth was in every case unachievable. That is why the first important advice to the mothers-to-be was: Don't take on too much for the first few months with your child. Enjoy it without feeling bad about not doing something for your PhD. Take every day as it comes. This experience made it possible for the IDK mothers to come back to work without, the other way round, feeling bad about leaving the baby alone without the parents.


An important criterion of a successful return into the PhD is the support of the scientific advisor. As a mother or father you need to have the possibility after coming back to work to re-organize yourself to work effectively. The PhD students spoke about flexible working hours they were granted by their supervisors. Apart from that they got different kinds of support e. g. the purchase of a playpen in case the child has to be taken along to work.
All of the present PhD students at the Elternstammtisch went back to work after 8 – 10 months. Some part time and some full time. After 12 months the latest all of them will work full time. Those who have an intact network of grandparents profit from that to a great extent. Just the chance to have someone to look after your child when he/she is sick or you have a long day at work saves a lot of stress. All of the children are in day nurseries, of course, and the grandparents are just a, but a very valuable, fall back option.


The topic of day nurseries (Kitas) is a very difficult one, as it is tough to find a place for your child in Munich. In municipal day nurseries it is almost hopeless, although all of the IDK mothers applied for a place during the first 3 months of their pregnancies. Private day nurseries mount up to 800€ -1200€. PhD students like the IDK members who also are members of the Excellence Cluster NIM highly profit from an allowance of up to 400€ given by NIM. Concerning the day nurseries of the LMU the PhD students were faced with the problem of having short term contracts (half a year up to a year). The places went to parents with long term contracts.
The PhD students are glad to be back at work. As much as they enjoyed the intense time with their children at home, they appreciate their successful return into their PhD. At the beginning it was hard to find back into work when you start working for one or one and a half days. But as parents normally are best at taking on situations as they come, they soon get used to it and also on the part of their supervisors the feedback is that parents work more effectively. They only have a certain amount of hours before they have to pick up their children and cannot easily add one or two hours if they haven't finished the tasks of the day.
The ideal scenario for the IDK mothers would be flexible hours, either full- or part-time. Partly they are thinking about staying in academia as a PostDoc, partly they want to leave academia and go into industry. The absolute ideal would be working 75% for both parents.
Last but not least the children and the IDK part of their parents will be mentioned by their names as they are so much more than just numbers and facts: The IDK shares Judith's happiness with Julius and Jana, Gerke's with Tjaard and Vera, Jonas's with Tamo, Uta's with Paula, Katja's with Antonia, Julia's and Ondreij's with David, Martin's with Lotte, Frauke's with Lasse and Melari's with Luca and wishes the present and the next generation of the IDK all the best for the future.