IDK Summer School 2010
22 members of the International Doctorate Program NanoBioTechnology (IDK-NBT) gathered at the beautiful location in Aiterbach am Chiemsee between July 25th and 27th for the IDK Summer School 2010.
The scientific talks
The IDK-NBT is an interdisciplinary program that combines the research fields of physics, chemistry and biology on the common ground of NanoBioTechnology. At the Summer School every participant had to give a 15 minutes talk explaining his/her topic in a way that everyone was able to follow the presentation. Not only the miscellaneous research fields led to profoundly diverse talks but also the fact that some of the participants finish their thesis this year, while others have just started on their dissertations. That was a challenge as the IDK-NBT members had to prepare their talks for an interdisciplinary audience as well as for an audience that differed in the stages of their PhDs.
At the end of each talk the "recent challenges" were formulated and the audience was asked to help. For example one of the new IDK students, Uta Steinbach is working on the application of a molecular force assay for living cells, to mark with a very high specificity certain receptors on a cell surface. Her recent challenge is the highly accurate determination of the distance between the surface of the cells and the surface with the molecular force probes.
Other topics ranged from "self assembly inside hydrothermal pores" to "application of synthetic nanoparticles for gene therapy studied by live cell imaging".
The format of the talks enhanced vivid discussions as the students took actively part in the summer school. Thanks to their questions, discussions, and active engagement the workshop became a great success not only scientifically but also socially.
As team-building measures one part of the group went to the Therme in Bad Endorf and enjoyed a relaxed afternoon with time for recreation, chatting and sporting activities, while the other part of the group had a great day seeing the castle of Ludwig II at Herrenchiemsee and the monastery at Frauenchiemsee. The group "reunited" in the evening for the delicious dinner and spent the whole evening discussing their projects, and just having a good time by playing games and chatting.
The guest speakers
Apart from the students giving talks about their research the concept of the Summer School was to invite guest speakers who can give the students an idea what their professional careers could look like after their dissertation. The IDK-NBT managed to get two successful speakers, one from science and one from industry.
As the first guest speaker the IDK-NBT had invited Prof. Jörg Bewersdorf from the Yale University in New Haven, Connecticut. Prof. Bewersdorf not only gave a captivating talk about his research but additionally a fascinating one about his career. Jörg Bewersdorf did his Diploma thesis in the lab of the now well-known Stefan Hell and also stayed on in the Hell Laboratory for his PhD. After finishing his dissertation he went to the Jackson Laboratory in the USA and is currently an Assistant Professor at Yale University.
Jörg Bewersdorf talked very frankly about the paths that lead him to his professor position. He told the students he knew back then "that only very few graduates of each year become professors in the end". As he realized that his life without science would not be exciting enough, his decision to remain in science was made. He moved away from Germany to broaden his horizon and to gain some experience abroad. He reminded the students to always take care of having enough publications, working hard and having a good reputation as a scientist.
Following these rules himself along with his skills and talents he never gave up looking for higher positions that would challenge him and he kept on applying to them. Sometimes also luck and chance is needed: Yale heard about him from his former PhD supervisor and he passed the interview rounds successfully and is currently an Assistant Professor of Cell Biology at one of the most famous universities worldwide.
Jörg Bewersdorf spent half of the Summer School with the IDK-NBT members and became an active part. He asked questions to their talks, he had enthusiastic discussions with the students and praised their level of knowledge, research and presentation skills. On the other hand he was also a dynamic part of one of the two IDK teams that competed against each other in a game in the woods. The PhD students are absolutely grateful for his engagement as a guest lecturer as well as a part of the Summer School group.
Prof. Bewersdorf (right)



Dr. Lumma

The second guest speaker was Dr. Dirk Lumma from Siemens Management Consulting. Dr. Lumma, like Prof. Bewersdorf, has a PhD in physics but then decided to take another turn and leave his research position. Today he is working as a Vice President at Siemens Management Consulting.
After having studied physics and philosophy in Germany, Dirk Lumma went on to get a Bachelor degree from Harvard University. He then pursued his Master and his PhD at the Massachusetts Institute of Technology (MIT). Back in Germany, he started working as a researcher at the Max-Planck-Institute.
In the year 2000, after this impressive career progress, Dirk Lumma was faced with the question which way to go: Should he stay on in science and become a professor one day? Or should he step out of science and do something completely different? Going from science to industry also meant learning a lot of new things from scratch. By that time, he had been trained as a scientist for 10 years and still decided to leave all of that behind and join the consulting branch of Siemens. His main motivation was to have a wider range of impact than an academic usually has.
Dr. Lumma made a point by telling the students that "the selection criteria for the 'right' job are very personal". For your own career you have to make your own decisions. He recommended to talk to as many people as possible and do internships to get an insight into various areas, and how they fit you.
Dirk Lumma wanted to work in an environment, where his efforts would make a real difference. He himself chose Siemens Management Consulting, the independent top-management consultancy, because he wanted to work as strategy consultant in a high technology oriented environment. His current tasks are twofold: 1) He supports people in the operative units to address their current business challenges. And 2), he strives to develop Consultants and Project Managers within Siemens Management Consulting, with the aim of transferring them to a management position within the company.
Dr. Lumma's talk became a lively discussion, as the PhD students had a lot of questions ranging from the work-life balance of a consultant over which skills as a physicist you can contribute to how much influence a consultant has on the project.
As a conclusion it has to be said that both of the guest lecturers did a great job as they very honestly showed where your PhD can lead you. With this and their willingness to answer each and every question Prof. Bewersdorf and Dr. Lumma gave the IDK students a hint where their future careers could go.
Dr. Lumma's talk was the perfect end to a successful Summer School that could not have been better planned as by Julia Blechinger and Philip Severin, the IDK-NBT Student Representatives.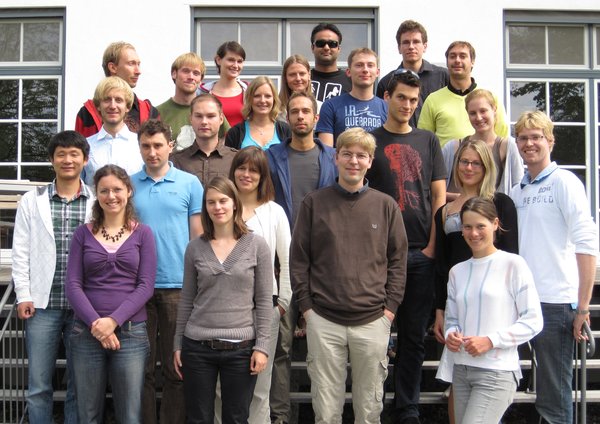 Chiemsee