PhD position: Chromatin Dynamics and Remodeling at the Single-Molecule Level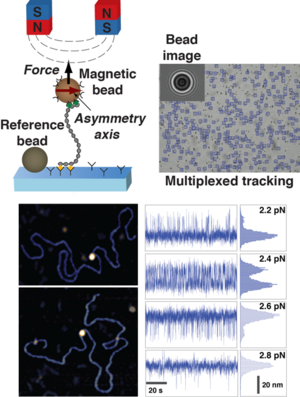 Project: DNA is the carrier of genetic information in all cellular life. It is becoming increasingly clear that in addition to the DNA sequence, the mechanical properties of DNA, packing in nucleosomes and higher order chromatin structures, and epigenetic modification play critical roles in genome regulation. These factors, in turn, are modulated by chromatin remodelers, dedicated enzymes that can add, remove, and translocate nucleosomes. In this project funded through the Collaborative Research Center SFB863 "Forces in Biomolecular Systems", we use single molecule techniques (magnetic tweezers and AFM imaging) to understand the dynamics and free energy landscape of DNA conformational transitions, nucleosome interactions, and chromatin remodeling.
Requirements: Highly motivated candidates with a master's degree (or equivalent) in physics, chemistry, molecular biology or related fields are invited to apply. The successful candidate for this open graduate student position will use single-molecule massively parallel magnetic tweezers and AFM imaging to study the conformational dynamics of nucleosomes, their interactions and the influence of remodelers. He or she will be embedded in the Center for Nanoscience graduate program.
The contract will initially be for 3 years with the possibility for further extension. Salary is in accordance with the German public service salary scale 75% TV-L 13.
Group: Prof. Dr. Jan Lipfert, Systems Biophysics, LMU Munich

Link to Prof. Lipfert's website