International Physics of Living Systems Network (iPoLS)
2019 Annual Meeting - Martinsried/Munich, Germany
Scope of the Workshop
This annual meeting brings together scientists from the international Physics of Living Systems Research Network (iPOLS), a trans-national network of graduate students, graduate student educators, and researchers, working at the interface between biology and physics.

More about iPOLS...
Program
The meeting will consist of four days of networking and exciting talks from students and faculty members of the PoLS Network. Sessions will be arranged by institutions. There will also be two poster sessions and an "Unconference", consisting of discussions on particular topics. The social program will include a conference dinner and a half-day excursion.
Preliminary program
Registration
Online registration will open in February 2019.
Accommodation
Special hotel rates on double & single rooms have been negotiated and rooms have been blocked for conference participants. Reservations must be made by attendees by contacting the hotel directly, referencing "iPoLS 2019" group block. The group block expires by May 31, 2019.


Hotel Thalmayr


Hotel Neumair


Hotel Erdinger Weißbräu


Empress Hotel
Rooms are to be paid by the attendees at a per night rate between €89 and €115.
All four hotels are located in Großhadern and can be easily reached by public transportation (subway U6, stop "Großhadern"). From the hotels, it is 15 min by bus or 25 min walking distance to the conference location.
Workshop Venue
Max-Planck-Institut of Biochemistry
Am Klopferspitz 18
82152 Martinsried / Germany
Supported by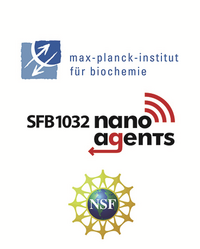 Conference Management

Dr. Susanne Hennig and

Claudia Leonhardt
Center for NanoScience (CeNS)
Ludwig-Maximilians-Universität



Marilena Pinto
SFB 1032 "Nanoagents"
Ludwig-Maximilians-Universität München



Silke Leuze-Bütün
MPI of Biochemistry, Martinsried
Dept. Cellular and Molecular Biophysics