NANOMAN - 10 Years in a Nutshell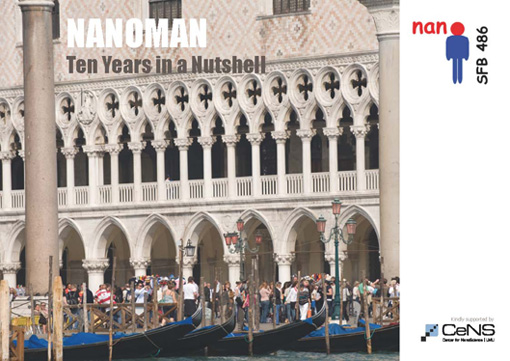 Coordinator
Prof. Hermann Gaub, Chair of Applied Physics, LMU Munich
Advisory Board
Prof. Joachim Rädler, LMU Munich
Prof. Matthias Rief, TU Munich
Prof. Achim Wixforth, University of Augsburg
Poster Presentations
There will be two poster sessions:
Session I (Thursday): Projects A1 - A15
Session II (Friday): Projects B1 - B13.
Venue
The workshop takes place at the Venice International University (VIU) located on the small island "San Servolo" (see map). The island is connected to the historic center of Venice (where the hotels are located) by boat No. 20, running every 20 min (from 8:15 to 9:50) or 40 min (from 9:50 to 20:30) to San Servolo and leaving San Servolo at 10:50, 12:10, 13:30, 14:50, 15:30, 16:50, 17:30, 18:50, 20:10, 21:50 (download timetable).
Travelling by train:
CeNS will book group train tickets for the way from Munich to Venice and back with the following train connections:
| | | |
| --- | --- | --- |
| Wednesday, 16.9. | Time | |
| München Hbf | 11:30 h | |
| Venezia S.Lucia | 18:10 h | |
| | | |
| Saturday, 19.09. | Time | |
| Venezia S.Lucia | 13:20 h | |
| München Hbf | 20:27 h | |
| | | |
Participants from Munich who book a train ticket with their registration will receive
their tickets before the workshop.
To book the train ticket please register by 1-Aug-2009 so that we can buy the tickets. Please select book train ticket in our online registration form.
Travelling by air
Several airlines offer flights to Marco Polo International Airport at Venice.
Transport from the airport to San Servolo:
Alilaguna waterbus: Take the Alilaguna boat (BLU or ORO line) from Airport to S. Zaccaria. Boats leave hourly (travel time about 1 hour) and cost 12 EUR. Take the shuttle bus from terminal to dock. From San Zaccaria you have to take boat No. 20 to San Servolo (see timetable).
ATVO buses (No. 35) go from the airport to Piazzale Roma and they leave in front of the entrance of the departure hall. Tickets can be purchased at the ATVO stand in the arrival hall or directly on board. The service runs from 9.00 to 24.00 and takes about 20 minutes to reach Venice and costs 3 EUR (see Timetable). From Piazzale Roma you have to take a boat to San Marco/San Zaccaria and then take boat No. 20 to San Servolo (see timetable).
Local transport
We will book 72 hours tickets for participants arriving with the group train. These tickets are valid for all buses and waterbuses in Venice (called Vaporetto) and also for the boat traffic through Canal Grande, to San Servolo and to/from the airport. If you travel to Venice by other means, you can buy a 48h, 72h, or 7-days ticket either online via Hellovenezia (lower prices) or at the ticket counters in Venice. The tickets booked in advanced have to be picked up in Venice at the counter of VeniceConnected at the railway station or airport. These tickets are much cheaper than buying individual one-way tickets which cost EUR 6,50.
Please select book waterbus ticket in our online registration form to book such a ticket.
The boat from Venice to San Servolo (No. 20) leaves from the stop "San Zaccaria" close to the Piazza San Marco; the stop is in front of the "Londra Palace Hotel" (download timetable).
Accommodation
We have booked rooms in several hotels and hostels from Wednesday evening (16th Sep) to Saturday morning (19th Sep). Single and double rooms are reserved for senior scientists (PostDoc and higher); rooms with 2, 3 4 or 5 beds will be at disposal for students (PhD and Diploma/Master). All rooms are located in the historic center of Venice.
Please select book accommodation in our online registration form to book a room for your stay in Venice.
Registration
Registration is now closed.
Workshop Location
Venice International University
Isola di San Servolo
30100 Venice, Italy
http://www.univiu.org/
Phone +39-041-2719511
Fax +39-041-2719510
Workshop Organization
Marion Frobenius
SFB 486, LMU Munich
Phone: +49 89 2180 3409

Dr. Marie-Christine Blüm
Center for NanoScience (CeNS)
Ludwig-Maximilians-Universität
Geschwister-Scholl-Platz 1
D-80539 München
www.cens.de
Phone: +49 89 2180 5791
Fax: +49 89 2180 5649